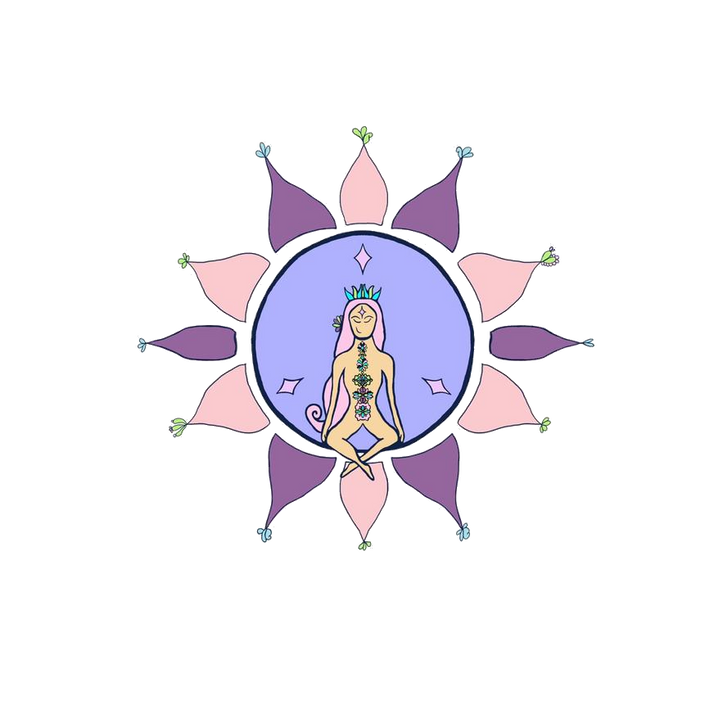 Radiating Souls Program
Live your Bliss. Craft and grow an authentic brand you LOVE.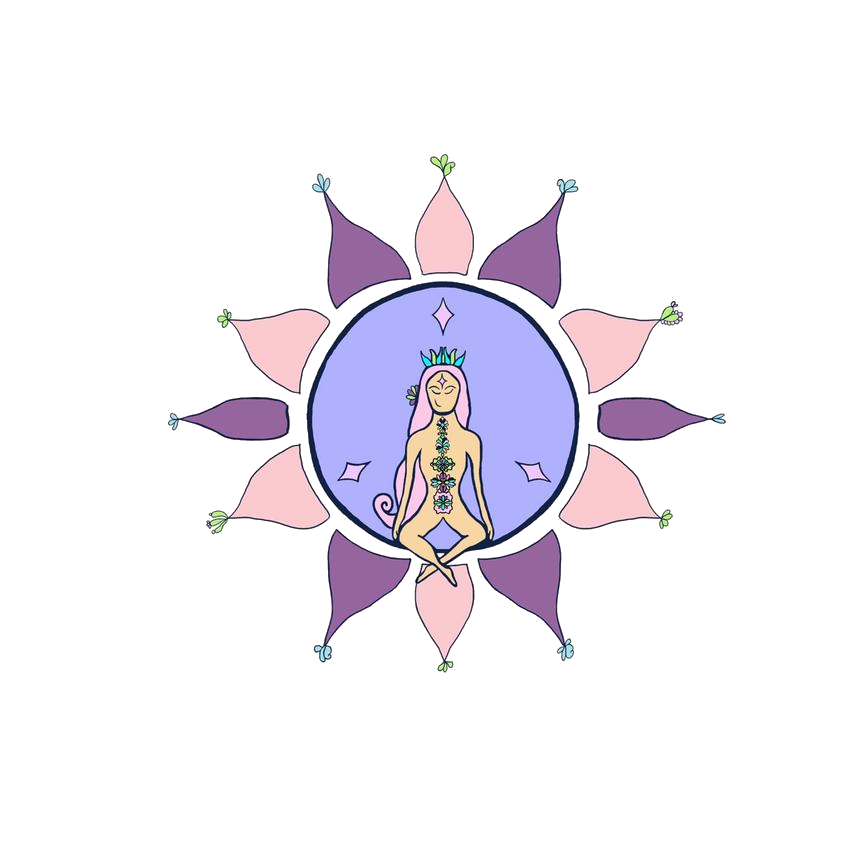 LET ME KNOW IF THIS IS YOU:
You just know you have something unique to offer the world, but aren't sure how to start

You feel like you're missing a like-minded community who can support your growth and share in your passions unapologetically

You're so ready to welcome abundance, alignment and freedom into your life, but you feel held back by limiting beliefs/circumstances

You're tired of feeling out of alignment with your authentic self (something just feels off!) but you're missing the practical steps to reconnect and find healing
I hear you. I used to check all of these boxes. I had big dreams to help the world, but I had no idea what, how, or when to do it.
I was always seeking validation from people before committing and was constantly telling myself I was "too busy" or "there's not enough money".
But throughout all of this, I felt completely out of alignment with my true self.
So, I decided to finally show up for myself. No external validation, no safety net, all fears put aside.
Here's what I discovered:
It's easy to spend way too much time and money on courses that don't get you the results you want
Once we find resources and guidance that works for us, stepping into our true power as leaders and healers is a natural process

Developing a personal brand that provides healing for yourself and the people you serve creates a sustainable cycle of abundance and alignment
"BE THE INTENTIONAL ENTREPRENEUR THAT HEALS THE WORLD AND YOURSELF BY LIVING YOUR BLISS."
Basically, by creating a business that allows you to share your gifts with the world, you step into alignment with your highest self. This activates a flow state cycle where you give and receive abundance through your work.
Otherwise known as being a powerful, freedom-based, impactful #bossbabe
By the end of this program, you will:
Learn practical methods for accessing the flow state cycle to heal limiting beliefs and discover your unique message

Reprogram your beliefs to align with your authentic self and uncover your self-worth

Build an Intentional Personal Brand that enables you to give and receive abundance sustainably

Create and implement a Sustainable Intentional Action Plan (S.I.A.P) with custom components including:

Nourishing your body type

Working through limiting beliefs

Healing from self-sabotage

Offense Blueprint: reverse engineering your goals

Avoiding burnouts

Time management

Goal manifestation
Build credibility and grow your online presence (no external qualifications required)

Develop an Abundance Toolkit to effectively monetize the value you offer

Gain a lifetime community of like-minded women to support you and your business goals
ADDITIONAL PROGRAM BONUSES:
Program Workbook PDF: track your progress and keep for later reference!
Optional Monthly Live Q&A Calls
Private Facebook Group & Mighty Network community: filled with tools and a place to support, connect and network with other like-minded people.
Holistic Health Guide: copy of Alana's personal health tips and tricks including superfoods for specific imbalances, plant-based shopping list, medicinal plants guide and more!
Tech Toolkit: copy of Alana's favorite tech tools and websites that keep your entrepreneurship efficient
Program Host Access: available by email 24/7
Lifetime Community: access to active group of like-minded entrepreneurs with challenges, journaling activities, virtual calls, and even local meet-ups!
PRINCIPLES OF THIS PROGRAM
Guidance

Accountability

Support

Guided Coaching

Designed for self-discovery and personal breakthroughs

Weekly progression nurtures confidence and leads to independence

Weekly milestones to share with online community

Optional Accountability partners within program

Progress and result tracking with program host

24/7 email access to program host

24/7 Facebook group & Online network assistance

Monthly Q&A calls with Alana
5 WEEK PROGRAM TOPICS
Week 1 - Tune IN
Connect with your authentic Self and Inner Desires
Master the foundation of a Personal Intentional Brand + S.I.A.P (Sustainable Intentional Action plan)
Own your Story & Find your voice
Understand your Ayurvedic body type and how to self-heal
Reprogram your reality : Create Bridge to T.F.Y (The Future You)
Set your S.I.A.P goal for your Brand
Tune into your WHY & Purpose
Milestone 1/5 : Set your S.I.A.P goal

Week 2 - Release
- Build a supportive mindset - Crush Limiting beliefs
- Write Mindset cheat sheet that supports T.FY
-Crowd out method to break bad habits
- Shift your relationship with Money
- Turn your inner fears and road blocks into friends and motivation
- How to step self- sabotaging, overcoming perfectionism .
Set your THRIVE hours —> Time management hack
Milestone 2/5 : Write your mindset cheat sheet

Week 3 - Restore/ Craft
Craft your Offense Blueprint. Reverse engineer your goals
Identify your niche audience
Define intentional brand identity & culture
Structuring effective online platforms
Nourishing your body type : the guide to plant based bowl method & batch cooking!
Milestone 3/5: Craft your Offence Blueprint and define your brand identity

Week 4- Align
Create your Self-Love magical Morning
Approaching Lows with Love
Build Your "thrive" List + THE power of Sharing
Set your PRE-Launch BUZZ
Manifest your dreams
Milestone 4/5 : Write your Magical Morning + Set your Pre-Launch BUZZ

Week 5 - Thrive
Build your Sustainable Intentional Action Plan!
Grow your inline presence!!
Monetizing: Creating Abundance!
Craft your Authentic Pitch
Work-Life Balance: Avoiding burnout!
Embrace the Journey
Milestone 5/5 : Build your Sustainable Intentional Action Plan!


MEET YOUR PROGRAM HOST ALAN
Hi! My name is Alana and I crafted this program for you because I believe in you and your potential to THRIVE! (And because I have a "secret sauce" to share with you that will not only help you get to where you want to be, but will also save you time and money!)
I come from 2 different backgrounds: working as a holistic health coach & an entrepreneur. There's so much contrast between "business and healing" but I have found a sweet spot between both worlds. It is my yin-yang harmony.
I have found that being an entrepreneur opens up the gates of creativity, potentiality, and alignment. It also allows for opportunities, abundance and manifestation to flow in as I desire. It allows me to set direction into my own life, and gives me the flexibility to change my creations as I evolve and grow in this journey.
Connecting to holistic healing allows me to add a depth to my work and practice. It allows me to nurture and find balance, sustainability and intention in my work and lifestyle. This combo is my "secret sauce" that has inspired me to craft S.I.A.P (Sustainable Intentional Action Plan) AKA a business plan for your authentic life!
I'm excited to share this sauce with you because it has changed the lives of many others, including myself!
Accomplishments: I've founded a non-profit and then a business with the intention to help empower women and people around the world. I work with a family start-up company by growing their brand presence nationally; I'm also a certified holistic health coach and plant-based chef.
In this journey, I have grown my businesses and project's presence, donated money to causes I am passionate about, and worked with people around the world. I have been featured in various magazines, podcasts and online articles for my work. I've welcomed the financial abundance I wanted in my life, and now my mission is to help others like you turn their goals into reality!
Tips for investing in your dreams:
Be accountable: Exchanging money (energy) for a service makes you more likely to maximize the energy you put into the result!
Choose yourself: Committing to a program that aligns with your highest self is an investment in the most important aspects of life—your time, your well-being and your personal fulfillment.
Create abundance: Taking part in an aligned business program gives you the tools and resources you need to make your dreams work for you, creating return on investment and priceless personal freedom.
Giving Back: 10% of your enrollment is donated back to the community through organizations that empower women around the world!
To organizations like :
iNSTAGRAM : @radiatebliss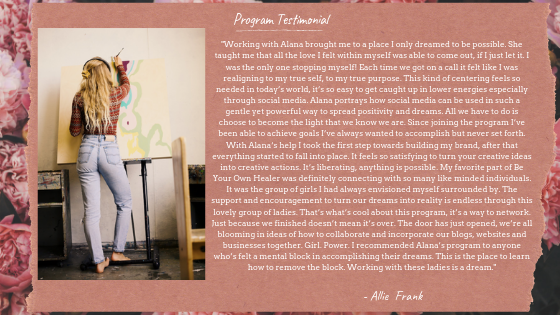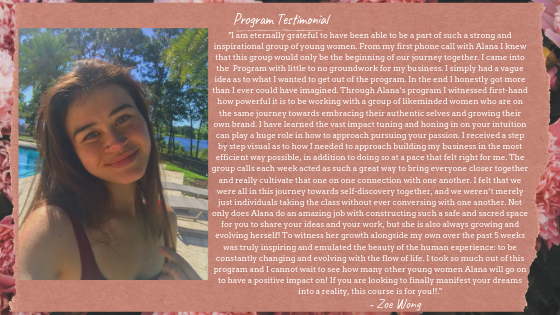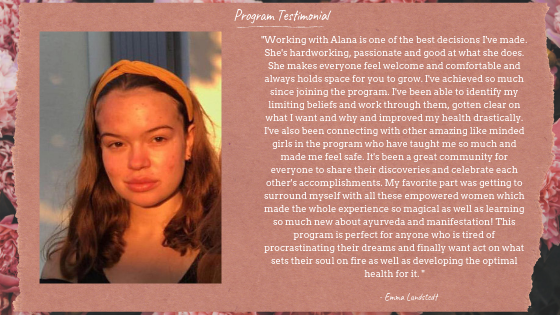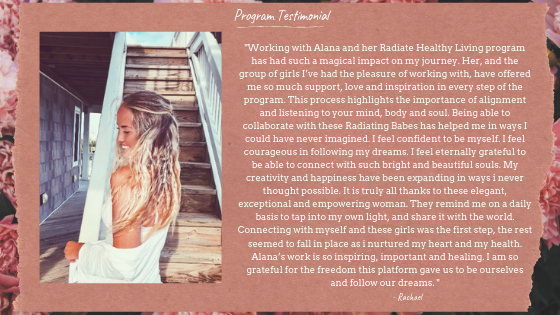 Frequently Asked Questions
When does the course start and finish?
This course is 100% self-paced. You decide when you start and when you finish!
How long do I have access to the course?
How does lifetime access sound? After enrolling, you have unlimited access to this course for as long as you like - across any and all devices you own.
Is this course for me if I have no idea what I want to do?
Yes, this course will help you dive within and discover what is most aligned with you. This will help you create with intention!
What if I already have a brand, is this course still for me?
Yes, many women already have a brand started when they start this course. It will help you fine tune your message and help you get set up to grow an authentic brand. This course is great for any type of coach, or creative soulprenuer creating a brand with purpose.